The 10 most beautiful sunsets Ibiza
Ibiza is such a beautiful island, it's green, it's colorful, a very comfortable climate, and it's surrounded by a beautiful colored sea. You have beautiful little bay's and beaches, there are mountains, it's authentic , it has it's complete own vibes and atmosphere, a lot of history and it's great for everyone to be around. Younger people or older people and for the ones who like quietness  or party animals, a nature lover or a city person, it doesn't matter, you will find your way at Ibiza.
I have  already written about different beaches, hotspots and nice things to do at the island, but
I decided to write down the most beautiful sunset hotspots for you, because I have mentioned them under different themes on this site. And in this way it makes it much more easier for you to such for, right? 😉
So…..where at Ibiza will you find the most beautiful sunsets?
Benirras
If you like dancing and music and if you like to see the sunset in a total different way , surrounded by other sunset lovers and guided by drums than you have to go to Benirras. Every Sunday at high season the local hippy's come to this beach with their drums to guide the sun going under with their drum music. It gave me goosebumps and I think it's very special to be part of.
Of course you are able to enjoy the sunset here at other days as well, it's a beautiful bay, but than you have to enjoy it without the drums, but probably also with some more quietness then on a Sunday. And who knows you will find a lost hippy with a drum anyway.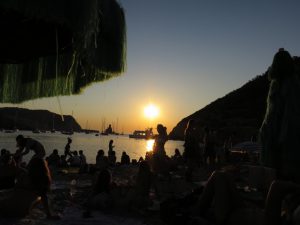 Cala d'Hort
Also here you have the choice to sit down at the beach and enjoy the sunset AND the view at Es Vedra. Or you can make a reservation at one of the two restaurants here. ( when you ask me the view is the best from restaurant El Carmen. ( this restaurant is still on my own "to do" list so I can't tell you anything yet about their menucard )
The sunset at La Torre
I made a highlight of this sunset place at my page, because I love it over there.
You have a beautiful open view here. Also here there's always people, but less than at Benirras.
You can enjoy the view sitting on the rocks, or at the terrace of La Torre with a drink or while taking enjoying dinner. ( How romantic is that?)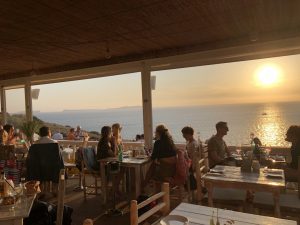 Es Vedra
Of course Es Vedra can't be forgotten on this list. A beautiful view at this magic Rock with on the background a beautiful sunset. A mythic place with goosebump effect and the Ibiza Vibes will be around you here in every way. Read more about this hotspot at the highlight I wrote about it. And put it on your "to do" list.
Cafe del Mar
Cafe del Mar can't be left out in my top 10 of course. This is where it all started, the chill out music playing at the background, a drink in your hand and enjoying the sunset. They became famous because of these three things together that made people happy. That was years ago.
In the meantime Cafe del Mar has to share this beautiful location with more chill out bars and restaurants, so your definitely not alone here. It's quit busy here to be honest, but you have to put it on your to do list, because it belongs to Ibiza and nice to see.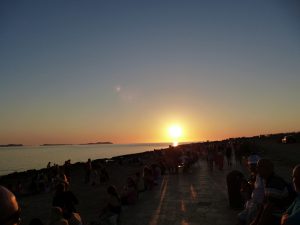 Cala Salada
Driving to this bay is already fun, because it's hidden in a beautiful environment. It's surrounded by forrest with pine trees. It's a popular beach from the locals. There's local people who sell mojitos at the beach and often they play music as well. The ambient is kind of hippy. Nice!
Cala Compte
A sunset at paradise. You have a beautiful view here from the beach. But also the possibility to take dinner at one of the three restaurants here and enjoy the sunset in the meantime.
The three restaurants all have their own ambient. s'Illa des Bosc is my favorite here, but Sunset Ashram is very nice as well. They have some kind of oriental atmosphere, so I would reccomend dinner at s'Illa de Bosc or a drink at Sunset Ashram. But you can also sit down at the beach here and enjoy the sunset with your feet in the sand.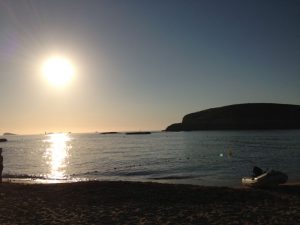 Sa Caleta
One of the cutest bay's ever! With the red terracotta colored cliffs it's beautiful here, for sure with sunset. There's a restaurant as well, but if you want to eat here around sunset I would make a reservation in advance for sure. Maybe you will have a table right in front of the opening between the cliffs. But also here you can sit down at the beach, bring your own tapas and drinks and just enjoy.
Cala Vedella
From the beach from Cala Vedella you also have a beautiful view at the sunset. If you have younger kids than this might be the right location for you. It's a very friendly beach for children so it's perfect to stay in daytime as well. Next to the beach there are different kind of bars and restaurants. From simple food to different plates and fish specialties.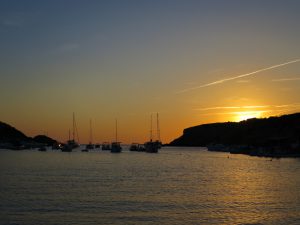 Cala Gracio
Also a very friendly beach for childeren. There's a kiosk here with drinks and small tapas. Lovely to stay at daytime as well. And with sunset with your feet in the sand or the water. Enjoy!